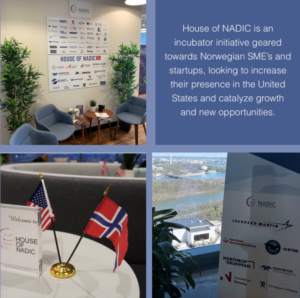 Please join us for Norway in the 21st Century Luncheon on June 8, 2023, from 12/noon-1:30 pm at the House of NADIC in Arlington, VA!
This edition of the 21st Century Luncheon will feature Einar Gustafson, Counselor, Defense Industry, Innovation Norway at the Royal Norwegian Embassy, and Chloe Friberg Director of the Norwegian-American Defense Industry Council (NADIC) and the Norwegian-American Chamber of Commerce Mid-Atlantic (NACC MA).
The title of the talk is: NADIC & NACC: Creating a Valuable Ecosystem for Norwegian Industry to Grow and Prosper in the US
The speakers will discuss their background and their work. We will learn how Innovation Norway, the Norwegian-American Chamber of Commerce, and NADIC help grow the opportunities for Norwegian industry and business in the US. There will be ample opportunity to ask questions after the talk.
Lunch will be a casual affair with sandwiches and an assortment of beverages. Please mark your preference when you RSVP. The price per person for members is $20, and the price for non-members is $25.