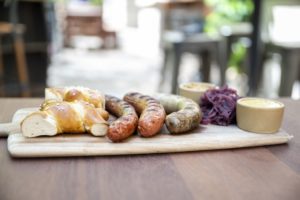 NORSK NETWORKING HAPPY HOUR
When: August 17th from 5 to 6:30 PM
Where: Courthaus Social
2300 Clarendon Blvd.
Arlington, VA 22201
https://www.courthaussocial.com/
Please RSVP below by August 12
August is just right around the corner and before you know it, summer will be over! In August, vacation, and time off of work are slowing down, so join us on August 17th from 5-6:30 pm for our next Norsk Networking Happy Hour! This time, we will be meeting at Courthaus Social in Arlington. They are a Bavarian-inspired eatery specializing in pretzels, sausages, and cinnamon rolls made in-house and have an amazing selection of beer and happy hour specials. The schnitzel is a great choice if you want a hearty meal. There is plenty of outdoor seating and room to move inside if the weather is not on our side. Courthaus Social is conveniently located next to the Courthouse Metro Station and Courthouse Plaza off Clarendon Boulevard and 1 mile from Ballston and Rosslyn. We recommend taking the metro, but there is also meter parking available and free parking on the residential side streets.
Guests are welcome, but RSVP with your headcount in advance.
Beat the heat with us and socialize with the best of the Norwegian community in Washington DC!