Join us for Virtual Norway in the 21st Century Luncheon on December 6 at noon to 1 PM. 
"Gustav Vigeland – the Man and the Artist"
On December 6 from noon to 1 PM, we will be joined by the Director of the Vigeland Museum in Oslo Jarle Strømodden. Mr. Strømodden will give a talk on Gustav Vigeland, the famous Norwegian sculptor who created all the sculptures in the Vigeland Park in Oslo, which I am sure many of you have visited.
Director Strømodden will talk briefly about Vigeland's formative years and his early years in Oslo. He will then comment on Vigeland's travels, with an emphasis on the trips in the 1890s. He will also talk about three important monuments which were unveiled in 1908 and 1911 in Oslo, as well as the agreement between Vigeland and the City of Oslo which built a studio for him. Vigeland's studio later became the Vigeland Museum. The park, as we know it today, was not initially a part of this agreement. After the talk, there will be time for a brief Q&A.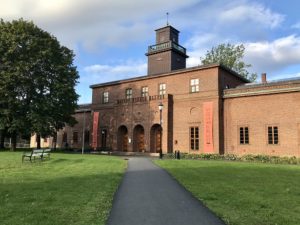 Mr. Strømodden has an MA in Art History from the University of Oslo (1995). He has been the Director of the Vigeland Museum since January 1, 2006. Previously, Mr. Strømodden was the Director of Tromsø Kunstforening, and he has also held the position as Assistant Curator at the Museum of Contemporary Art in Oslo (now part of the National Museum).
Make sure to secure your spot by signing up online by December 3. Zoom details will be sent to those who registered a day or two in advance. We look forward to seeing you at our event!
Read more about the Vigeland Museum here: https://vigeland.museum.no/