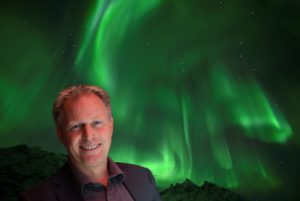 Virtual Norway in the 21st Century Luncheon
Thursday, June 3, 2021  at noon/1200
with Norwegian Solar Physicist Dr. Pål Brekke
We have the great pleasure of having renowned Solar Physicist
Pål Brekke join us from Norway on June 3 to give a talk entitled:
Norway – a Small but Significant Space Nation (on top of the world).
There will be a short Q&A after his presentation.
Please RSVP using the form below to secure your spot!
Here is short abstract of the talk that Dr. Brekke sent to us:
Norway is leading the way in many space activities. We have long traditions in Aurora research since the innovative inventor and scientist Kristian Birkeland was the first to explain the phenomena in 1897. It was charged particles from the sun that sparked the northern lights. His legacy, as the world's first space scientist, triggered an increased interest for solar physics – and today Norway has one of the best and biggest solar research groups in the world.
Developing sophisticated space instrumentation is another field where Norway paves the way. We were one of the first countries to launch a ship detection system into space tracking over 40.000 ships every day. The system has been installed on the International space station and is flying on several satellites – and it has saved lives as well as discovered illegal fishing and smuggling.  One of the seven instruments on the NASA rover Perseverance is the Norwegian ground penetrating radar RIMFAX which can look several meters below the Martian surface. We have the world's largest satellite stations located at Svalbard – which is also one of NASA and NOAAs most important ground stations to feed scientific and weather data to USA.
About Dr. Brekke:
Dr. Brekke is a solar physicist, expert on the northern lights and an international recognized lecturer. He currently he works as Lead Space Science at the Norwegian Space Agency. Previously he worked for six years at NASA Goddard Space Flights Center as the Deputy Project Scientist for the legendary sun-observing satellite SOHO. He received a Fulbright Fellowship in 1994, ESA's Exceptional Achievement Award in 2002, and Laurels for Team Achievements from the International Academy of Astronautics in 2003. He is a Norwegian delegate to several European Space Agency Program Boards and also a Prof. II at the University Center at Svalbard (UNIS). Dr. Brekke is also the author of several international popular science books about the Sun and the Northern Lights translated into seven languages. He has recently produced the award-winning documentary «The Northern Lights – a Magic Experience. He is also a member of the exclusive Explorers Club in New York.