Please join us for our annual Norwegian Society Juletrefest on Sunday, December 2 from 4 to 6 PM. All ages are welcome!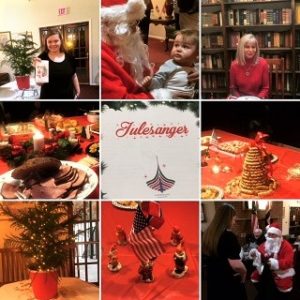 Location: The Harrison (new this year!)
Address: 1800 Jonathan Way, Reston, VA 20190
Parking: When you pull into the complex, drive around the semi-circle to the front door. Drop off passengers and any items you wish to leave. Someone from the Society will be at the door to greet you and present you with a parking pass. You will then exit the way you came and drive across Temporary Road to 1801 Old Reston Avenue, Reston, VA 20190. The parking lot there is for guest parking.
This event cost is $10 per person, but there is no fee for children under 12. Please bring a contribution to our julebord/Christmas buffet. Bring either a main dish or dessert. Norwegian homemade food is of course most welcome, but other Christmas fare or one of your favorite dishes will of course be welcome as well. Please RSVP and prepay using the form below.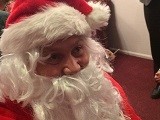 Every year we get a visitor from the far North who brings treats for the children. This year is no exception.
In addition to our sumptuous buffet, Norwegian Society will also serve gløgg, soda, water, coffee, tea, and a Christmas ham. There will be a nicely decorated tree where we will all gather to sing traditional carols in Norwegian and English. There will be Norwegian music to accompany our caroling, and you will be able to visit with friends, old and new. The winners of the annual Christmas raffle will be announced right before you leave.
A big thank you goes out to our Membership Director, Zach Jenkins, for hosting us!
We look forward to seeing you on December 2 and wish you all GOD JUL