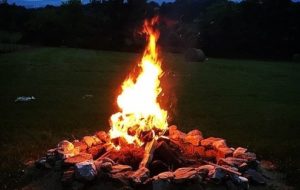 Norwegian Society Annual Sankthans Picnic
Come Celebrate Sankthans/Midsummer Eve at the Staalesen Farm in Frederick, MD on Saturday, June 25 from 5 PM to dusk
There is no cost involved, but please RSVP below with the number of people in your party. The address will be sent to you after you sign up.
Last year, everybody brought their own picnic, so we will ask you to do the same this year. Norwegian Society will provide water, coffee, and a delectable Norwegian marsipanbløtekake for dessert, but please bring your own main dish and/or sandwiches as well as any other beverages you wish to consume.
Some seating will be available, but it would be great if you could bring your own chairs/picnic blanket.
Many of you have been to the Staalesen Farm before and know they have plenty of outdoor space for everyone, including room for children's games. There is also a large open building where people may go in if the weather should be unstable. The traditional bonfire will be lit at dusk.
We look forward to seeing you there!