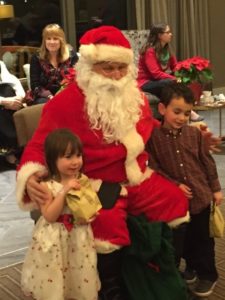 Join us for our Annual Julefest on December 17th from 5-7 pm at the Harrison in Reston! This year marks a very special anniversary for the Norwegian Society. We are celebrating 120 years of gathering the Norwegian community together in the Washington DC area. So dress for the festive occasion and come on out and celebrate with us!
We encourage you to bring your favorite Christmas dish for our potluck-style feast – whether it is Norwegian-inspired or not. The Norwegian Society will be sponsoring a Christmas ham, kransekake, gløgg, and soft drinks, but most other dishes and/or desserts are welcome. Please RSVP below to indicate what you would like to bring and how many people will attend. Since Julenissen (Santa) will most definitely make an appearance, it would especially be good to know how many children will be present.
As you remember from years past, parking is not available in the front of the building, but there is ample parking just next to the building in the lot at 1801 Old Reston Avenue, Reston, VA 20190. There will be markers to help guide you along the way.
Velkommen and God Jul!