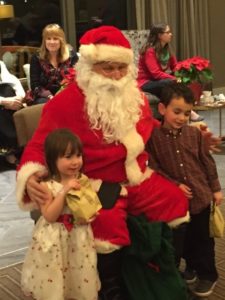 JOIN US FOR OUR ANNUAL JULEFEST/CHRISTMAS PARTY on December 2, from 5 PM to 7 PM in Reston, VA
You are cordially invited to join us for the Norwegian Society's Annual Julefest on December 2, from 5 PM to 7 PM in Reston, VA
Bring your children, grandchildren, and/or your friends! The event is free for our members and their families, but additional guests/non-members will be charged $10 at the door to help offset costs.
We have heard a rumor that Santa will be joining us this year as well, so don't forget to let us know how many children you will bring when you sign up.We also encourage you to bring your favorite Christmas dish for our potluck-style feast – whether it is Norwegian-inspired or not.
The Norwegian Society will be sponsoring a large Christmas ham as well as drinks: water, soda, and coffee. There will also be gløgg and juleribbe (pork belly), but all other dishes are welcome as well as dessert.