Please join us for a relaxing evening at The Harrison (where we had our Juletrefest/Christmas Party last year) and watch the Norwegian movie Kongens Nei/The King's Choice with us on Saturday, March 30.
We will meet and mingle at 5 PM and start the private viewing at 5:30 PM. Light refreshments will be served: popcorn, beer/wine, soda, and water. We ask that you pay in advance to offset our costs. Member price: $7, Guest/non-member: $12.
Please note that this event is first come, first serve – we have limited spots available.
Time: 5 – 7:30 PM
Place: The Harrison in Reston
Address: 1800 Jonathan Way, Reston, VA 20190
Parking: When you pull into the complex, drive around the semi-circle to the front door. Someone from the Society will be at the door to greet you and present you with a parking pass. You will then exit the way you came and drive across Temporary Road to: 1801 Old Reston Avenue, Reston, VA 20190. The parking lot there is for guest parking.
About the movie: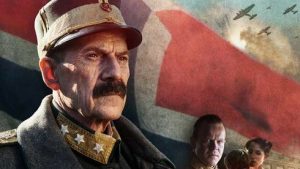 The King's Choice/Kongens nei is a 2016 biographical war film directed by Erik Poppe. It is a co-production between Norway and Ireland and was selected as the Norwegian entry for the Best Foreign Language Film at the 89th Academy Awards. In December 2016, it made the shortlist of nine films to be considered for a nomination. It has received great reviews both in Norway and abroad.