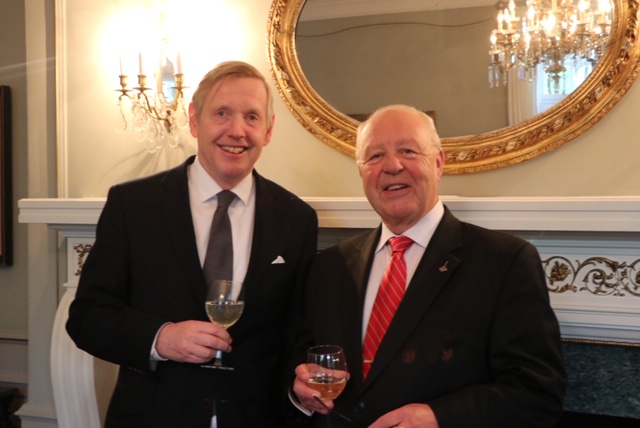 Effective February 1, 2019, two well-managed and historic organizations have merged to form NORWEGIAN SOCIETY AND CHURCH SERVICE WASHINGTON, D.C., INC. The two organizations enjoyed a close relationship for several years and had many of the same members. Many of the leaders were serving in both organizations, and there were overlapping social activities. In fact, the organizations have been sharing the same web site for several years. It was time to take the next step and have the two organizations work together as one.
The combined vision for the new organization is to be the first choice for a cultural meeting place in the Washington, D.C. area. The mission of the organization is to create a place for people interested in Norway, to promote strong cultural ties across the Atlantic Ocean, and to offer Norwegian Church Services in the Washington, D.C. metropolitan area in close cooperation with the Church in New York.
The programs of the newly merged organization will be managed by two committees — one for church services and one for educational, cultural, and social activities — organized under a single Board of Directors with common support functions such as Secretary, Treasurer, Communication Director and Membership Development Director, all coordinated by the President and Vice President. Norwegian Society Past President Lasse Syversen will serve as President; Aleksander Marthinussen will be Vice President and Chair of the Church Committee, and Zachary Jenkins will be the Chair for the Society Committee. Alfred Dennis has become the Corporate Secretary, and Anne Eason is the Treasurer. Inger Dreng will serve as Communication Director. These three bring a wealth of experience to these positions as they have served both organizations in the past. Ms. Dreng most recently served as Norwegian Society President. Membership Development Director, Torunn Meighan, comes to Norwegian Society and Church Service Washington, DC, Inc. from outside bringing fresh ideas and important skills to attract new members. "We believe the new combined organization will be stronger and better equipped for the future of becoming the center for Norwegian culture in our area," said President Lasse Syversen.