VIRTUAL ANDAKT/DEVOTION AND KIRKEKAFFE on October 11 at 3 PM. Please register in advance below.
We ask that you register on our website prior to the service so we can send you the agenda and the zoom link for access to the service.
The upcoming service on October 11 at 3 pm will be celebrated with HØSTTAKKEFEST (Thanksgiving). If we had held the service in person, we would have the children carry vegetables to the altar during the procession. In the spirit of that we would ask you to bring a vegetable to the zoom meeting to set the tone. Another thing we can share with each other after the service during our social hour is LAPPER (pancakes). Vigdis Syversen, our Social Chair, has shared a recipe you can use to make these.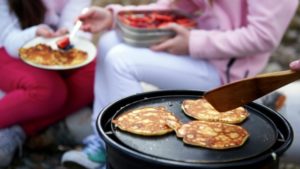 LAPPER (makes around 30)
4 dl white flour (just short of 1 and 3/4 cups)
3 dl milk (about 1 and 1/4 cups)
5 eggs
2.5 tablespoons granulated sugar
3 tablespoons butter
0.5 teaspoon salt
1 teaspoon baking soda

How to make them:
Melt the butter and mix all the ingredients into an even batter. Let it swell for 15 min.
Fry the "lapp" in a heated frying pan with butter or oil, one minute on each side.
Use a ladle and make them around 10 cm in diameter.
Serve cooled with some jam or fresh berries. Freshly made "lapper" is always popular, for breakfast, lunch or supper, with guests – or even without.  ENJOY!