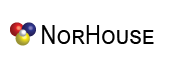 When Norwegian Society decided to create a new web site in cooperation with the Norwegian Church Service in Washington, DC  last year, we were very lucky to find an able and willing sponsor in NorHouse. Creating a functional web site for two organizations is no small task and also very expensive – enter NorHouse, an Internet department store specializing in Norwegian and Scandinavian food and gifts for the American market, with a long and successful story. In fact, NorHouse celebrates 20 years of catering to Norwegian and Scandinavian needs in the US this year and sponsoring our new web site is their way of saying thank you to all their loyal customers in the Norwegian community.
It all started back in Norway in 1997. At the time, Internet shopping was a new concept and when Microsoft learned of the project in Oslo where NorHouse tried to create a Virtual Mall (several merchants/online stores gathered in one place) to reach the American market, they created the software needed to launch the concept. SND (now Innovation Norway) and NorHouse traveled the country to find other merchants to participate in the project. Over time, cooperation became quite a challenge, and NorHouse became a "department store".
Many of you may recall NorHouse's participation in the Christmas festivities held at Union Station in the late 90s where they also opened a regular store. After 9/11, the physical store was closed, but NorHouse is nevertheless going strong online. Take a look at their web site to see all the goodies they currently offer: http://www.norhouse.com/
Some of their most popular items are Norwegian chocolate, Arctic caviar, fish, cheese, and a variety of gift items. They also have special offers to companies who buy large quantities of food for exhibitions and special events such as marinated and smoked salmon.
In the following months, NorHouse has a special offer for us as well:
All Norwegian Society members will receive a 15% discount for all orders of $25
or more this season– just enter coupon code NOSO17 when you check out.
You will also find a direct link to NorHouse on our new web site: https://www.nosodc.org/
We wish  Norhouse  a very Happy 20th Anniversary!