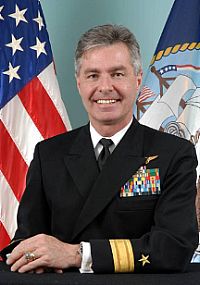 In November, 2017, we learned about President Trump's nomination of Kenneth J. Braithwaite of Pennsylvania to become the Ambassador Extraordinary and Plenipotentiary of the United States of America to the Kingdom of Norway. As of December 21, 2017, his nomination has been confirmed by the Senate.
The incoming Ambassador is a distinguished 27-year veteran of the U.S. Navy and U.S. Navy Reserve. He currently serves as Group Senior Vice President for Vizient, a health care company. He completed his military service in 2011 as the Navy's Vice Chief of Information. Prior to that role, he served as Commanding Officer, Joint Public Affairs Expeditionary Support Element (Reserve), Joint Forces Command, deploying to Pakistan as the overall Director of Strategic Communications supporting the work of the American Embassy.
After almost a year without an Ambassador at the US Embassy in Oslo, it is good to know that the process had been swift this time. There is still no word about the expected date the new Ambassador will arrive in Oslo. We will keep you posted.
Photo credit: US Navy